Sun, Moon, and Tide graphics for the Professional Publisher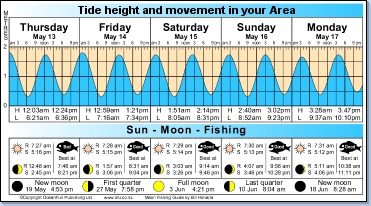 Brighten up your publication with sharp graphics!

Transform traditional text and tables into stylish visuals which will fascinate your readers for years to come.
Tidewiz.com specialises in the production and supply of elegant high quality graphics, conveying sun, moon, and tide information.
Electronic artwork for any media is designed to meet your publication style and requirements, and can be delivered in most popular file formats.
If you are new to this site, please view our Introductory Showcase for a quick overview of what we offer and how we can work with you.